Multidisciplinary approach
VMB Automation is a renowned organisation specialised in the design and realisation of hard- and software for the machine building and process industry. VMB was founded in 2001. Our clients are active in the maritime sector, on and offshore sector, oil and gas sector, agro-food sector, water management and the logistics sector.

We have all disciplines under one roof, which translates into various benefits for you. You can count on short lines of communication and our large scale enables us to respond flexibly to your needs and thus shorten the 'time to market'. Moreover, we know how to find the right channels to purchase our components or semi-finished products at competitive prices. This is one of the reasons why more and more companies choose to be unburdened by VMB Automation and why we are able to grow steadily.

Our company is characterized by a no-nonsense culture and therefore distinguishes itself from the larger parties in the market. Especially the complete picture, nowadays called Smart Industry, appeals to customers. We are based in Eindhoven and Hendrik Ido Ambacht, where we work closely together to provide our customers with the best possible service and stability. Projects are installed and commissioned by us worldwide.
High-quality customised solutions
Under one roof, we serve our local and international customers with complete high-quality customised solutions in machine control.

Whether it's advice, design, engineering, modelling, software development or complete control cabinets, we help our customers with our specialist knowledge and skills.

We understand that operational reliability in production processes is essential for our customers, which is why we also provide support through our own service department.
Together with our local and international customers, we want to make automated business processes more efficient and optimised.

This means that we closely follow new developments in order to continuously maintain our high level of knowledge and are able to develop ourselves.

And also to invest and grow in both operating result and business size.
What you and we build on?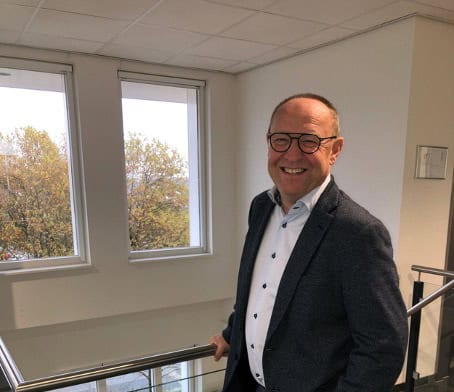 Business Development Manager
VMB Automation strives to realize its projects as sustainably as possible, with attention for Planet, People and Profit. We separate our waste streams at the source and reuse them wherever possible, thus contributing to the circularity in our chain. We regularly discuss with our customers and suppliers how we can organise things even better together.

We try to reduce the impact on our environment as much as possible by collecting rainwater and using it for our toilets and plants. We also contribute to this by choosing diverse planting and using bee hotels.

More than 90% of our fleet consists of green cars. It is possible to fill up with electricity at our car parks. We generate our own electricity, making us climate-neutral as a company.

Our CSR-objectives have been laid down and are being checked through our ISO14001 certificate.

Naturally, we pay attention to the welfare of our employees, by periodically discussing safety, training and future prospects. Externally, we take our responsibility by sponsoring various organisations, both locally and nationally.

VMB Automation is leader of the Sustainable Businesses Netherlands platform.

No matter how extensive, complex and/or international your project may be, with us you always have one point of contact. One contact person with whom you can spar substantively. In this way, we combine structured project management with inspiring interaction.

We keep all relevant project documentation in our ERP system so that all those involved work with the same information.
Let us know, and we will visit you, organise a team session or schedule a telephone conversation.